Whether for customers, employees, suppliers or partners, bring sent documents to their attention smoothly.
Send efficiently through any channel
Let recipients choose which channel they prefer to process your documents through. Doccle supports various digital channels for document delivery and even paper delivery if needed.
Never forget
As soon as a document is sent, the recipient receives a notification. Ditto when the due date of an invoice approaches. Moreover, thanks to the digital archive, documents remain accessible to the recipient anytime, anywhere.
Linking with portals
Do you already have your own customer portal? No problem, because Doccle can also integrate with that to make digital documents visible via this environment.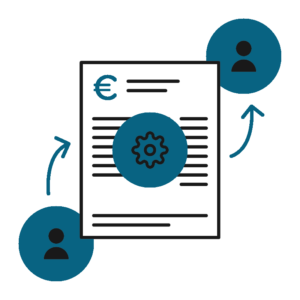 Don't give fraudsters a chance
Recipients want assurance of the sender's identity. Documents therefore end up in the Doccle app where no spam, advertising or fraud attempts can arrive. This reduces the risk of reputation damage or financial risk.
Document shipping via Doccle, which is…
Sent documents end up in an archive
Integration with your existing customer portal
Meeting legal obligations
Reach everyone, with or without a Doccle account
Reliable platform with high availability
Notification with each new document